---
Pile-high, colorful spices, ornate mosques, a 5-per-day chant known as the 'Call to Prayer', aggressive panhandlers in the medina… all of these things can be found in Marrakesh, Morocco and it can be quite the sensory overload! From the sights to the sounds to the smells to the crowds, it's a lot to take it. But regardless of the chaos, Marrakesh is one of the most exotic, crazy and awe-inspiring travel destinations you could visit in a lifetime and my 48 hours in Marrakesh guide will help you see the best of Marrakesh in 2-days time.
Perhaps you're here as a stopover before heading to Fes, Essaouira or the Sahara. While Morocco is worthy of more than a stopover, there's plenty to see and do while experiencing the rich culture of Morocco and still feel like you're not squeezing too much in. For those staying longer than 2 days, feel free to explore the other options I have listed with this guide.
Day 1
9:30 am Bakchich Cafe – Outside of your hotel or riad, it will be a tad difficult to find a breakfast spot that opens before 10 am. Luckily, there's Bakchich. Not only does this place work for your busy schedule, but the atmosphere is cute and cozy, the food is delicious and the price is very reasonable. Start your morning with some traditional Moroccan mint tea and bites. Located in the heart of the medina, make sure you bring a map!
Other options: L'tchine, 16 Cafe
11:00 am Jardin Majorelle – Welcome to Majorelle Garden, or in French, "Jardin Majorelle," the land of cacti, succulents and awesome color blocking. While the garden has been open to the public since the 40s, it wasn't until Yves Saint-Laurent took interest in Marrakesh and its lovely garden in the 1980s and decided to restore it. There's a special little YSL area dedicated to the famous fashion designer. This place is a tad pricey what with all of the upkeep, so I recommend skipping the museum once inside. The cafe is a lovely spot to enjoy mint tea, but make sure to save your appetite for the souks! 
1:00 pm Jamaa el Fna – If you're up for an adventure, this shopping/market square is a wonderful half-day excursion. The souks of Marrakesh are famous for their handmade leather goods, arabic fashion, Moroccan oils, sky high and colorful spices and sweet treats. Enjoy haggling with the shopkeepers, getting lost down many alleyways or watching snake charmers amuse their slimy friends. Just make sure to keep your wits about you. (And don't pay $40 for a damn henna tattoo like I did. Face palm.)
5:00 pm Saadian Tombs – Explore the ornate and ancient tombs of Saadian Sultan Ahmed al-Mansour ed-Dahbi. Al-Mansour, who died in 1603, spared no expense for his extravagant tomb so that he may be well prepared for the afterlife. For 10 Moroccan Dirhams, you can marvel at the spectacle that Al-Mansour left behind. Unfortunately, we were unable to see this as they were closed for construction. But this one is a definite must in Marrakesh!
6:30 pm Kasbah Cafe – After your time spent at the tombs, enjoy the sunset from the rooftop to witness the famous Kasbah Mosque during the call to prayer as the people scurry through the souks below. While this place may be a tad touristy, you can't beat the location and the great food options. We dined here 3 times and I could not get enough of their chicken tajine! With your long day ahead, enjoy the people watching for an hour or two before heading back to the hotel.
Other options: La Sultana, Casa Saada
Day 2
8:00 am If you're lucky, your hotel, riad or dar includes breakfast or as a restaurant nearby. Make sure to get some good eats for the day ahead and stay close by since you will be picked up at your accommodation for the next activity.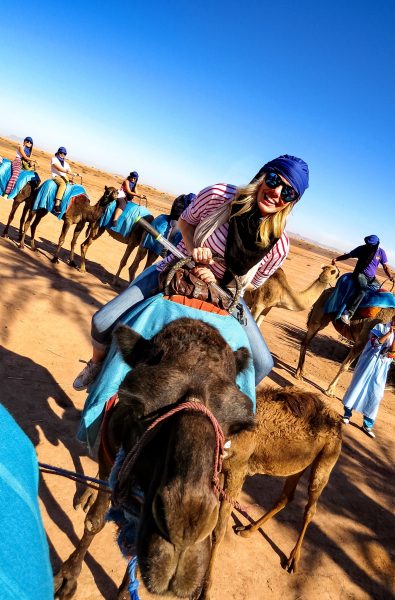 8:45 am –Dunes and Desert – Short on time but still want to pet a camel? Dunes and Desert has a half-day camel trek 45 minutes outside of Marrakesh. Not only will you ride your own camel, but will enjoy the desert scenery, stop for mint tea with your group and sing songs all the way. If you're lucky, you might even have a baby camel following you around. The shuttle picks you up between 8:30 am and 9 am so be well rested and fed.
1:30 pm Cafe Clock – One of the more tourist friendly options, this cafe has some of the best Moroccan food without all of the hassle. This cafe is perfect for a dose of Morocco with a little bit of a Western influence. Perfect if this is your first time in Morocco or maybe you're feeling a little confused about your surroundings. The camel burgers are very tasty and the chicken tajine was the best we had in Morocco!
3:00 pm Hammam of La Maison Arabe – After a day of trekking through the desert, it's time to clean up. But rather than a traditional spa date, head toHammam of La Maison Arabe and experience a hammam like a true local. A hammam, also known as a Turkish bath, is the Middle Eastern variant of a steam bath where one is cleaned from head to toe. It is the epitome of the Moroccan experience and not to be missed!
Other options: Hammam Rosa Bonheur, Les Bains de Azahara, Hammam de la Rose
5:30 pm Hotel Mamounia – After your invasive, yet exciting 'spa' adventure, it's time to experience some real luxury. Hotel Mamounia is a 5-star luxury hotel with awards and reviews from Vanity Fair, Conde Nast and Vogue and it's no wonder why. After touring the impressive grounds of the hotel, treat yourself to a traditional Moroccan feast at Le Marocain or a delicate French dinner at Le Français. Either way, you will feel like you walked out of a Casablanca dream.
Other options: Es Saadi Palace and Villas, Palais Namaskar
7:00 pm Take in the local neighborhoods – Before your trip out, make sure to grab any last minute goods, candy or other local trinkets. I wish I had purchased more jewelry and candy, but the people watching also makes for one last hurrah before moving onto your next destination.
Transportation in Marrakech is by taxi only, which must be haggled before entering. If your haggling skills are sub par, ask your hotel, riad or dar attendant to help you negotiate the price. We were lucky with an amazing staff in Marrakesh that helped us not get constantly ripped off. Furthermore, if you would like a local guide through Marrakesh, I also recommend talking to your accommodation staff. They will provide you with locals who they know personally or at least point you in the right price direction.
Have you been to Marrakesh? What else did you see?