When Kevin wanted to visit Norway during our RTW honeymoon, I didn't even know where to begin planning. I knew Norway was expensive and it didn't exactly seem like the most romantic place to go, but I was SO, TOTALLY WRONG!
As the second stop on our journey, this trip to Bergen helped create a wonderful start to our adventures ahead. It was beautiful, it was cozy, it was different, the people were friendly and yes it was a tad expensive, but we managed to work around the cost with a little creativity.
Here are some of the things that we planned to see in Bergen, Norway and how you should spend your next trip in this incredible town.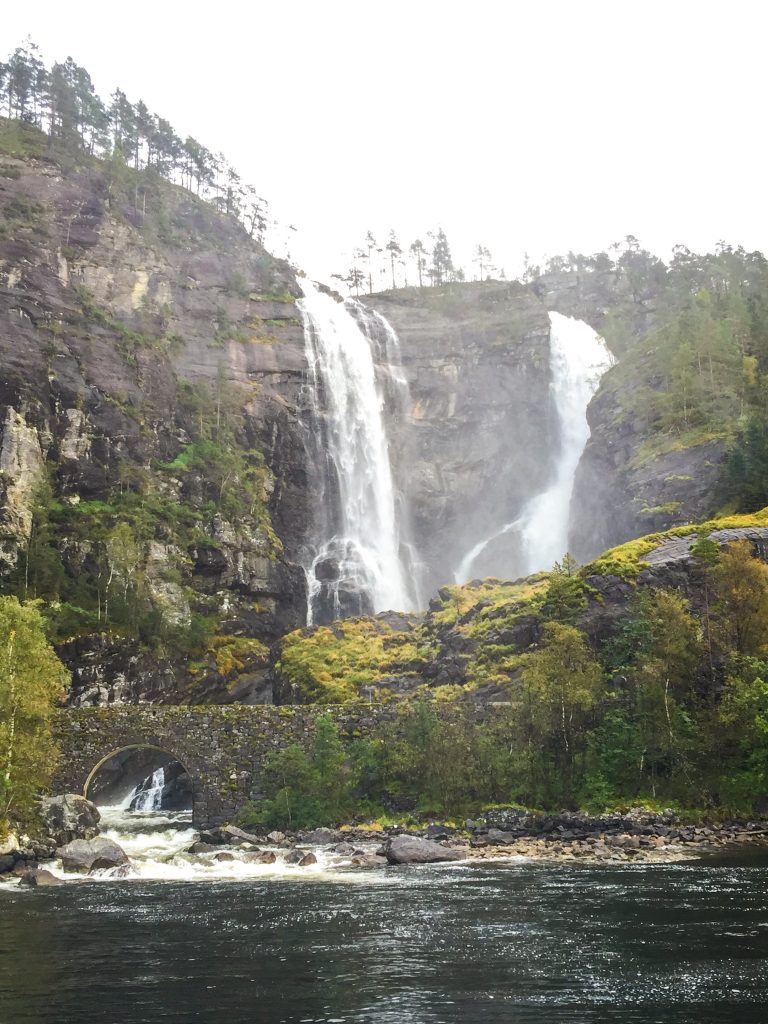 1. Visit the Beautiful Fjords
Bergen acts as a travel hub between some of Norway's best fjords. Whether you want to visit the Pulpit Rock, Instagram-famed Trolltunga, or the very famous Geirangerfjord, traveling from Bergen is the best and fastest way to get there. Go to the city's Tourist Information Center to see your best transportation options, be it train, bus or tour guide. If you're looking for an inexpensive way to check out some fjords, look into the Monstraumen fjord cruise in Bergen. For only $50 USD,  you will cruise through the fjord for 4 hours, pass some historical landmarks and drink from a tasty and refreshing waterfall.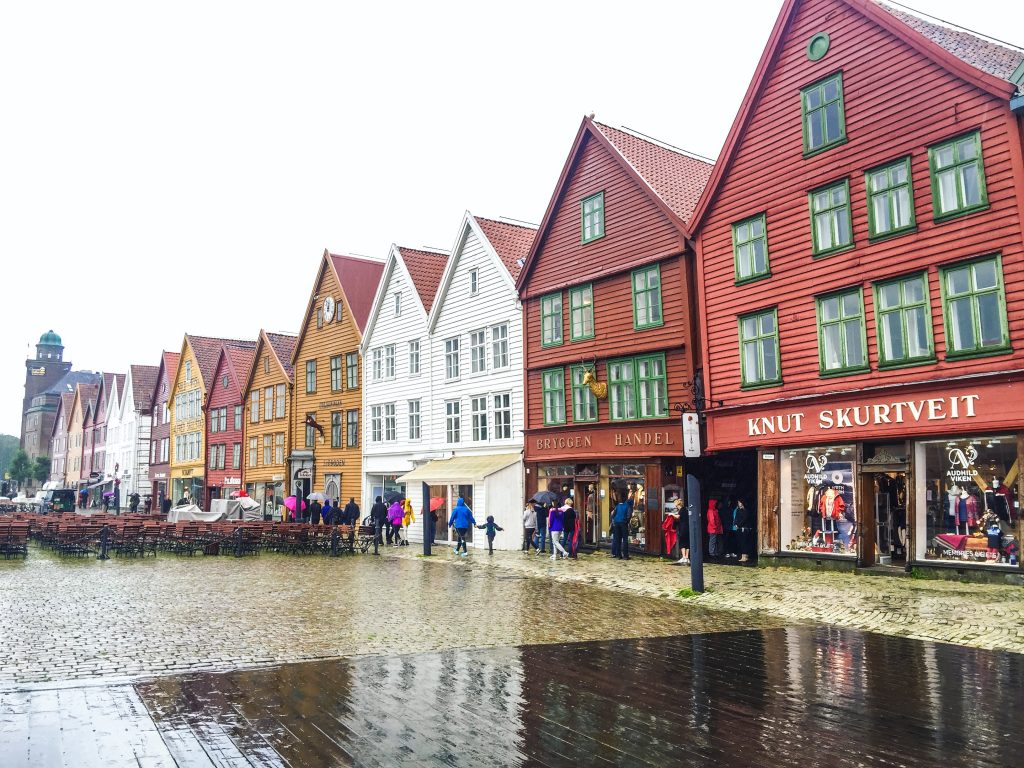 2. Stroll down the Historical Wharf
One of our favorite ways to spend the afternoon, rain or shine, was walking along Bryggen, the old wharf of Bergen. Cross this UNESCO Heritage site off your list and enjoy the colorful buildings that line the water. It's the perfect glimpse into the Norwegian culture and history. Oh, and try on weird hats.
3. Museums Galore
Bergen is filled with some of the most fascinating, cultural museums. Spot Edvard Munch at the Bergen Art Museum or learn the history of Bergen at the Bryggen Museum. With a Bergen tourist card, you are able to visit a lot of these museums free of charge. It's the perfect activity to do when the weather inevitably turns.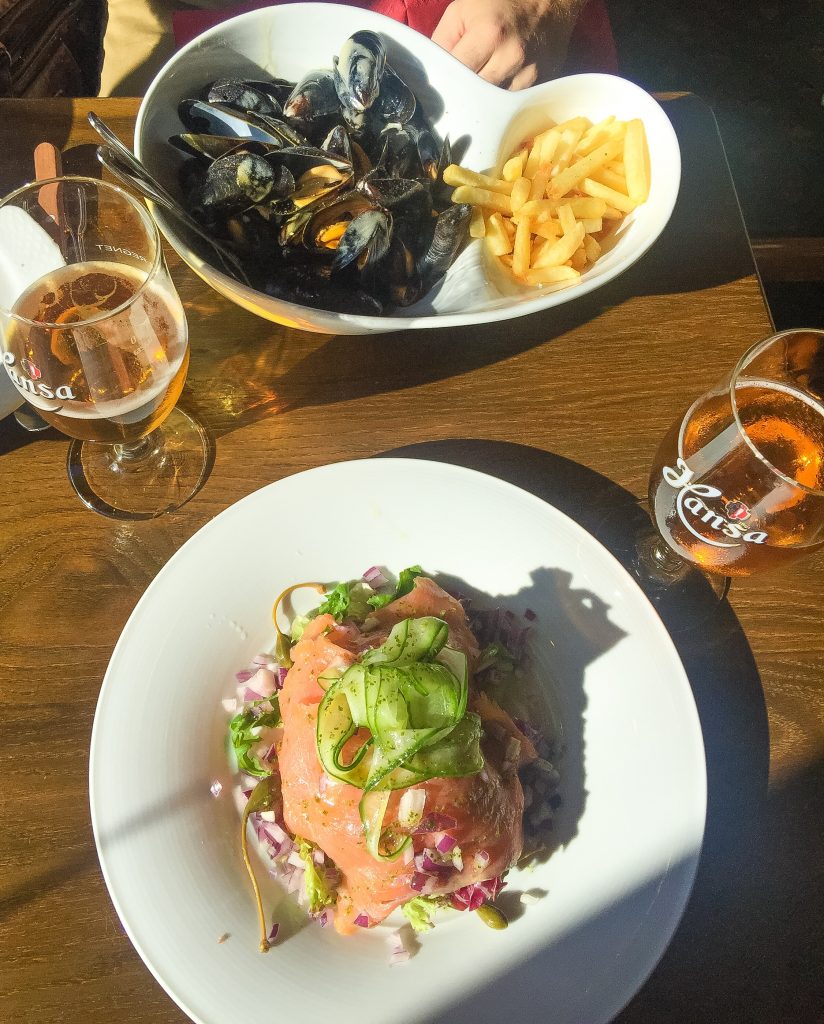 4. Eat Lots of Fresh Seafood
You can't visit a famous fishing port and not try some seafood, right? Bryggeloftet & Stuene Restaurant was our favorite seafood spot, conveniently located on Bryggen. It was here that I had the freshest salmon I've ever had in my entire life! But this place isn't exactly budget-friendly. The further away you are from the pier, the more affordable your options will be. But my next point can help get your seafood fix and help your wallet…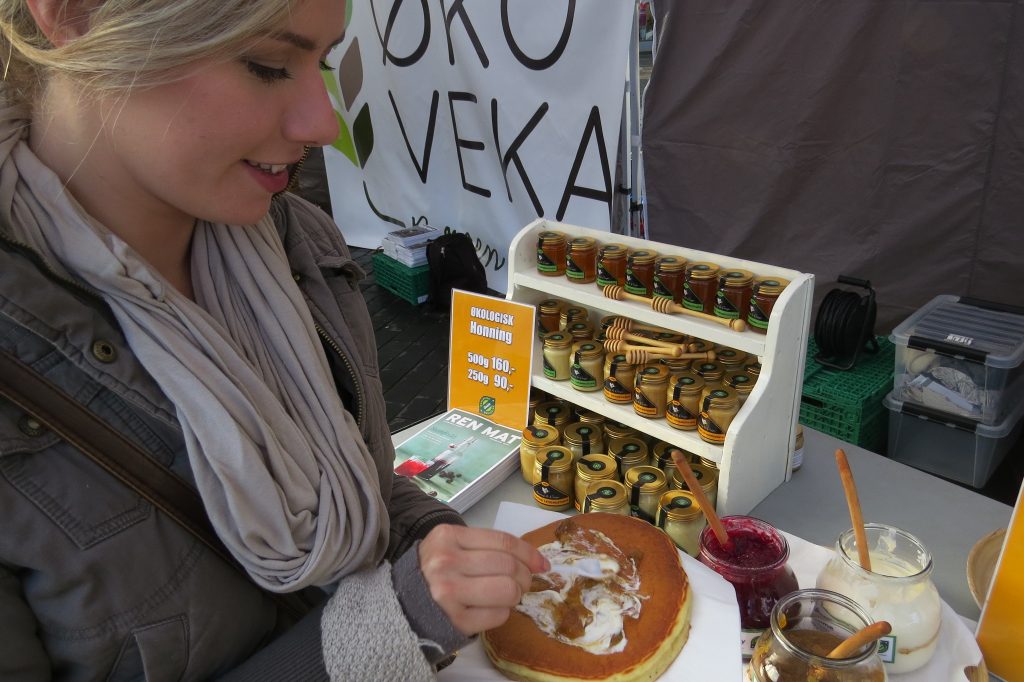 5. Check Out the Street Market
Every Saturday morning, the Bergen pier hosts several local businesses for their street market. We had some of the best pancakes with fresh toppings made by a Norwegian family, bought some local fish for dinner and we even tried whale meat (which was actually, SO GOOD, let me tell you)! You'll experience authentic Norwegian culture and run into many friendly locals as you stuff your face shop and snap around.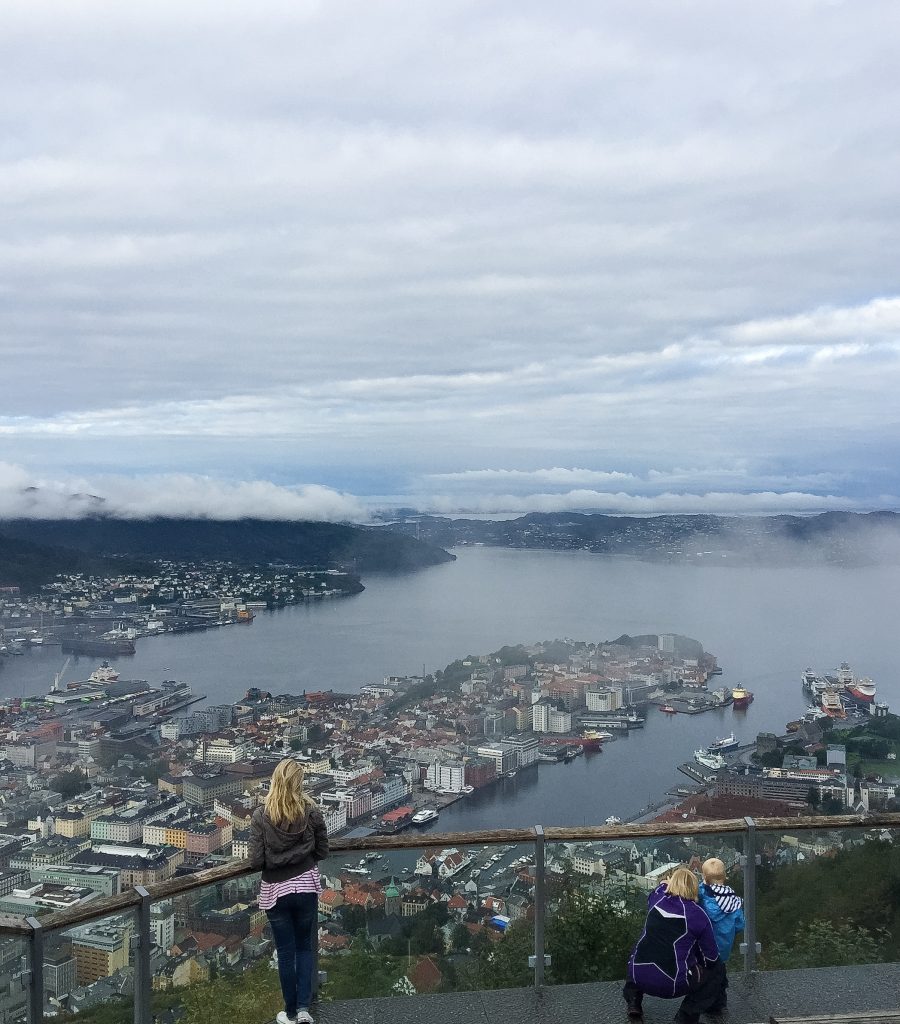 6. Visit Mount Fløyen
Looking for the best view in town? The funicular Fløibanen takes you straight to the top of Mount Fløyen where you are able to see the Bergen wharf along with several Norwegian islands and fjords in the distance. It may be touristy, but so worth it! I recommend eating before you head up to the top as there is a cafe, but the food and prices are less than desirable.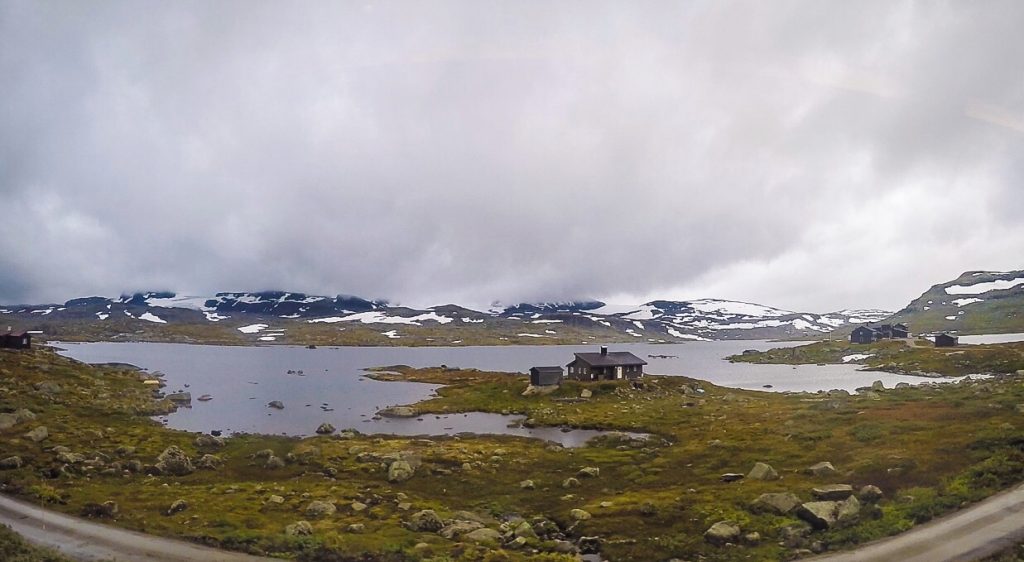 7. Cruise the Bergen Railway
If you're traveling to or around Bergen, chances are you have heard of the Bergen railway. This train route has been called "The Most Beautiful Train Journey in the World" and it's not surprising why. From crater-sized lakes, tree-covered islands, waterfalls cascading over famous fjords, cabins nestled amongst the mountains and vast terrain, your jaw will drop at every turn. And 1st class from Oslo to Bergen is only $90 USD!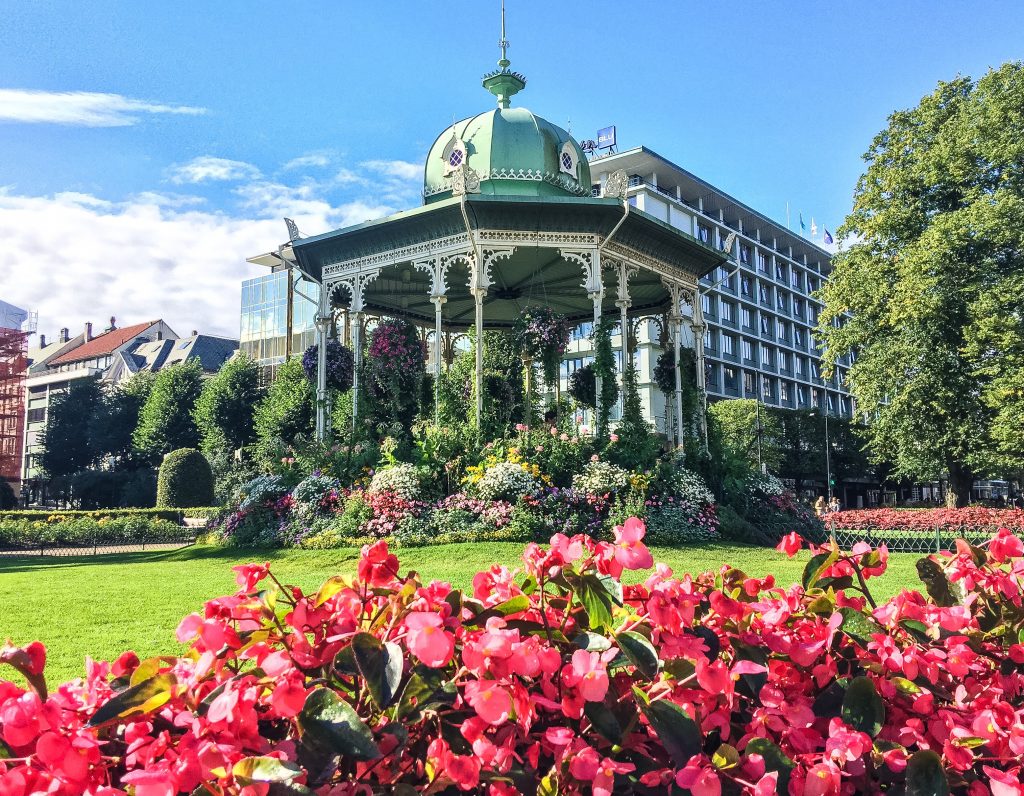 8. Lille Lungegårdsvannet
This spot is hard to miss and impossible not to "do" while in Bergen. Since this park/lake/gazebo spot is in the center of many museums and cafes, it's easy to take 30 minutes out of your day to sit and people watch. We came here twice and witnessed a wonderful local marching band as well as some hilarious busking. Not to mention, this place is stunning on a sunny day!
9. Visit the Cafes
Norway prides itself as one of the best places (in the world) to grab a cup of coffee. See for yourself at some of the quaint and trendy cafes around the city. Locals boast Kaffemisjonen, for example, as the best coffee around, hands down. Since this sad traveler is allergic to coffee (WHAT?!), I can't exactly tell from experience. 
10. Local Events
Bergen hosts two amazing festivals during the year: the Viking Festival and Grieg in Bergen. Sometime between late fall and early spring, you can spot the Northern Lights! And when Christmas time comes, Bergen transforms in Gingerbread town and many Christmas concerts are held. There's always something going on in this city and it's up to you to see what event corresponds with your trip!
Have you been to Bergen? What do you like to do when you visit this beautiful town?