So you've decided to attend Oktoberfest, the world's largest Volkfest. As one of the most famous, exciting and liver-killing festivals in the world, you're stoked. But now what? After traveling to Munich last year during my honeymoon, I took everything I learned and compiled a step-by-step guide to Oktoberfest so that you can spend your time on more important things, like chugging Hofbräu Beer nonstop and dancing atop picnic tables.
The Accommodation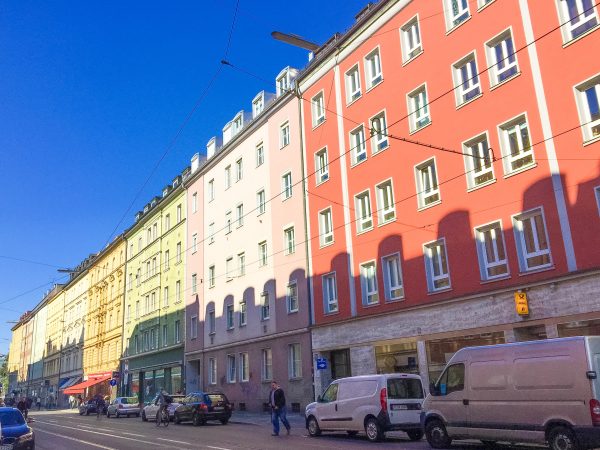 I'm gonna tell you that right now, this one is just gonna be expensive.
Luckily, you can dodge some of the crazy overhead charges if you book an AirBnB 1 year in advance. If you have not done your due diligence by booking very far in advance, you're not totally out of luck. You can attempt to check out the following:
Couchsurfing
Homestays
Guesthouses
House Rentals
Stay with friends
Of course hostels and hotels are always an option, but most places jack up the price, sometimes by 300% per night! Unless you want to split the AirBnb with a group or book very far in advance, try the ways listed above first.
The Transportation
If you're coming from out of town (international or domestic), prices to Munich are not obscene. We traveled from Berlin to Munich via Megabus and paid $7 USD per person. The closer you get to the city around this time of year, the worse the traffic. Try to make sure you have transportation from the airport, bus or train station sorted out ahead of time.
I highly recommend flying into a different city within Germany, then travel by bus or train to Munich. 
With resources like Skyscanner, Rome2rio, Bahn and Megabus, you'll be able to find multiple transportation options to get you to Munich that fit your budget and/or schedule.
Getting around Munich is quite easy. I am a big fan of walking in Munich (normally, I'm not, but the beer calories aren't going to burn themselves). The bus is extremely easy to navigate and cabs during this time of year are very frequent. Single day tickets on the bus are about 7 Euro while 3-day tickets are around 30 Euro.
The Attire
According to the locals, tourists only started wearing lederhosen and dirndls to Oktoberfest about 5-6 years ago. Before, they would wear their normal clothes. Kevin attributes this change to the ever-growing social media bandwagon. Nevertheless, I know me and I know you, and I know you're stoked to get your costume on.
Luckily, you have some options:
Buy a very cheap costume (at home or in Germany) for about 20-50 euro
These shops are everywhere around Munich. From Marienplatz to the more residential neighborhoods, you will find an inexpensive costume. Sure the print is tacky and the quality is poor, but you're only soaking it in beer for 1 week before you throw it away, right? Of course, you could always purchase one off Amazon for this price as well.
Buy a very authentic and expensive costume (at home or in Germany) for 100+ euro
These shops are also around Munich, although it's harder to pinpoint which shop offers the best/the least expensive without shopping around a little. Again, this can be purchased at home. Unless you become a frequent Oktoberfest visitor or become a "German guy" for Halloween every, single year, I don't recommend this option.
Rent a very authentic costume for about 45 euro
Kevin and I went with option number three. The best place to rent these costumes are Lederhosen & Trachtenverleih or Bavarian Outfitters, the first being only slightly more expensive. We got an entire lederhosen set for Kevin (lederhosen, blouse, socks and shoes) and dirndl set for myself (blouse, dress and apron) for days for 100 Euro at Bavarian Outfitters. 
REMEMBER LADIES! The placement of your bow is important! Bow to the right is married, bow to the left is single and a bow in the back center is widowed. 
The Tents
This guide to Oktoberfest would not be complete without a tent breakdown. There are 14 tents at Theresienwiese, the official Oktoberfest grounds, and all of them are crazy-packed by about 1 pm. That's why I highly suggest that you arrive no later than 11 am. The picture above is the empty reserved section at 10:30 am. Behind the Oompah band, it was almost impossible to find a seat.
Yes, you can reserve a table, but you must reserve the whole table which can get pretty expensive (around €400). If you decide to do this with you and your 9 friends, make sure to reserve it ASAP. Like, springtime.
Part of the fun of Oktoberfest is tent hopping, but if you're lazy/hate wandering through crowds like us, you might find yourself sticking to one tent all day long. No regrets. 
There really are no bad tents at Oktoberfest. As long as there's beer and dancing, you can't go wrong. Simply go where the wind takes you. However, here is a general breakdown of each tent and what it's like:
Schottenhamel – Oldest and biggest tent, plus the best to party

Hippodrom – The hippest and most popular, hard entry

Hofbräu Beer – The international crowd (aka tourists)

Augustiner – Family friendly

Hacker Pschorr – The famous blue sky tent and a local favorite

Käfer's Wies'n-Schänke – Celeb spotting, intimate and open until 12:30 pm

Bräurosl Beer Tent – One of the most authentic with family atmosphere

Weinzelt – The wine tent

Löwenbräu – Center of the action (where we spent our entire day)

Fischer Vroni – Best fish dishes

Ochsenbraterei – All things ox, seriously 

Armbrustschützen Zelt – Crossbow shooters tent

Winzerer Fähndl – Cozy tent for soccer fans with live television

Schuetzen – Best Bavarian food
The Budget
The actual festival is free to the public (surprisingly, this place is family friendly). But all of the extras are gonna cost you. The cost breakdown is as follows:
Beer: €6
Snacks: €3-6
Meal: €12-18
Cocktails: €10
You should definitely eat a great breakfast feast to prepare for the drinking you're about to do, which will also help your food costs. For 2 days at Oktoberfest for 2 people, we spent 300 Euro. This included:
2 schnitzels
2 pretzels
Approximately 6 beers (we lost count)
Bottled water
Nuts
Candy
A flower crown (?)
Gingerbread cookie necklaces (they saved our drunk lives!)
Admission into the little kiddie-land (which was a waste of time and money)
Bus and cab transportation
There are many hacks you can do to avoid extra Oktoberfest costs like eat at home, pregame at home, walk to the festival, drink water in between beers, pack a costume from home, split beers with friends and only bring a certain amount of cash so you won't be tempted.
The Crew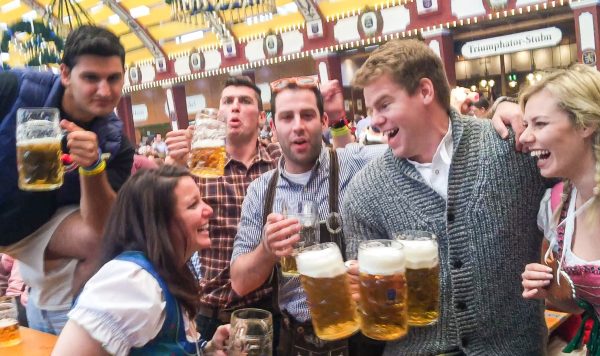 Of course your experience is only as fun as your crew. We were lucky enough to meet up with Kevin's friends which helped get the day going early. But if you've heard any stories of Oktoberfest, then you know you're sure to make friends. We happened to meet a couple of guys that happened to live 20 minutes from our hometown!
If you're going solo to Oktoberfest, no probs! Make friends at the hostel or hotel you're staying at, look to Facebook groups to see who you can meet up with and of course make friends in the tents.
The Experience
Be prepared for the time of your life. There's singing, dancing, games, sports, beer-chugging challenges, oompah bands, eating and of course, getting hammered out of your mind. Some say 3 days is too much while others say it's not enough!
I recommend at least 1 day dedicated to the tents and 1 day spent people watching and riding the carnival rides.
Try to challenge yourself to meet interesting people. Do as many new and exciting activities as you can. This isn't just a place to drink beer. This is a place to meet and mingle with interesting people from around the globe! You're sure to make some of the best memories of your life here.
I went into this experience thinking I would casually enjoy it. But I was wrong. This festival turned out to be one of the best experiences on our whole honeymoon and I want to go back every single year! When you imagine Europe, or at the very least Germany, this is exactly what you think of.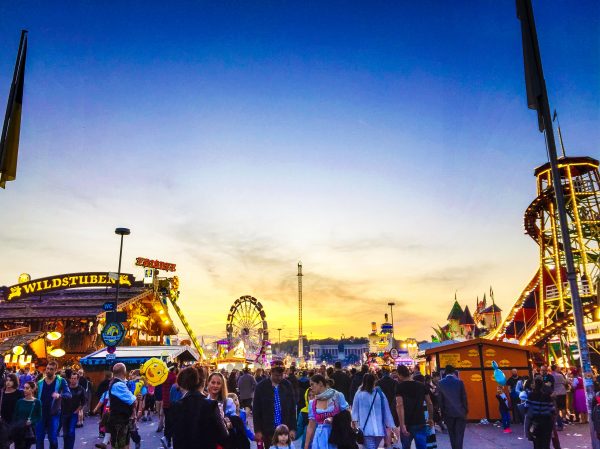 Have You Been to Oktoberfest? What Was Your Experience Like?
What Else Should I add in The Clumsy Traveler Guide to Oktoberfest?