After about 3 weeks of budget travel, Kevin and I felt we were due for a real honeymoon experience. We spoke with many travelers along the way and researched our options online, coming to the conclusion that Ubud would give us the real romantic experience while still getting the most bang for our buck. After much debate, we settled on Dwaraka Royal Villas.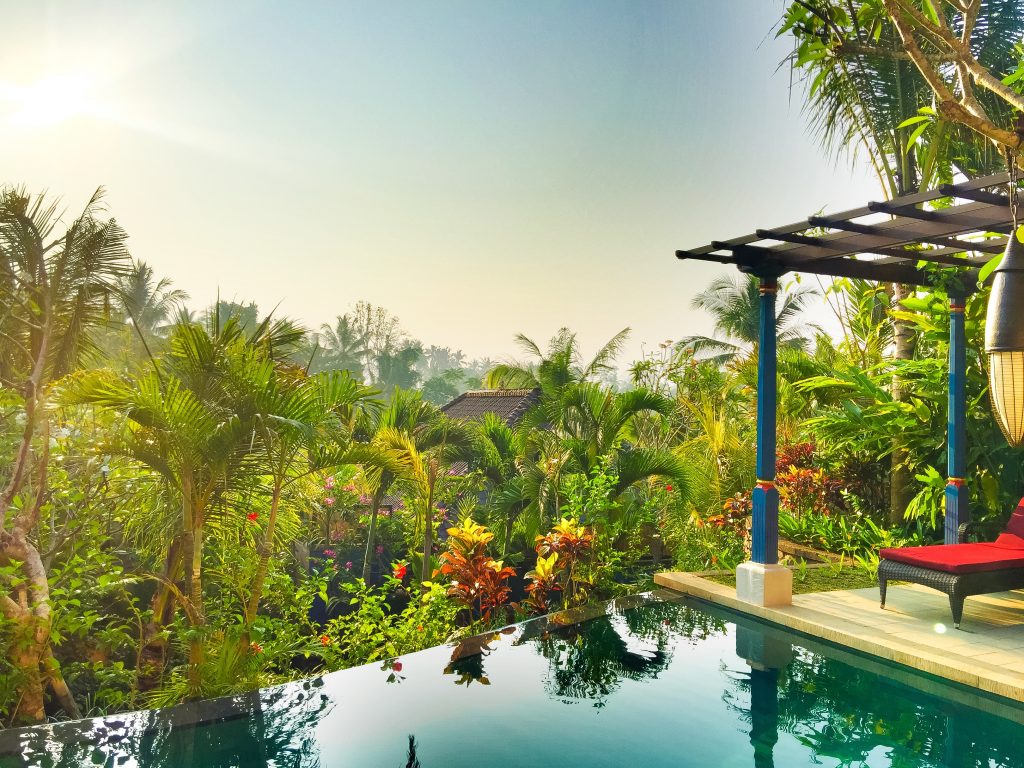 At first, I was very hesitant to stay at this hotel since it was brand new (about 2-3 weeks old upon our arrival) and had nothing but 5 star reviews.
"But, Sebrin, that's a good thing right?" Normally, yes. But occasionally, hotels may use fake reviews to boost their ratings when they're actually quite horrible. I've seen it happen. But not Dwaraka.
Despite my hesitation… The Dwaraka Royal Villas has been my favorite hotel experience to date!
When we arrived in the lobby, we were greeted with fresh flower leis, cool wash towels and green detox juices. The staff then explained the history of their villas as well as the activities provided followed by a tour of where we would be staying. We were beyond thrilled to experience a romantic honeymoon in an exotic and luxurious Balinese shangri la.
The Property
Dwaraka Royal Villa boasts 9 private pool villas, as well as a couple of suites each designed in its own, unique Balinese glamour. The architecture will leave you awestruck for the sculptures hand carved into each villa took over a year to create. Walk down to the pool villas and behold a stunning rice paddy backdrop set behind a tranquil and public infinity pool.
Our first 5 nights we stayed in a Royal Suite, located towards the front of the property. This area contained its own place for prayer and worship as well as the yoga area and kitchen. In our room, we found hardwood floors, brand new appliances, Balinese artwork and our bathroom contained ceiling to floor length windows, adding beautiful light while maintaining privacy. We were even greeted with a 15 minute foot massage, a honeymoon chocolate cake and rose petals on our bed!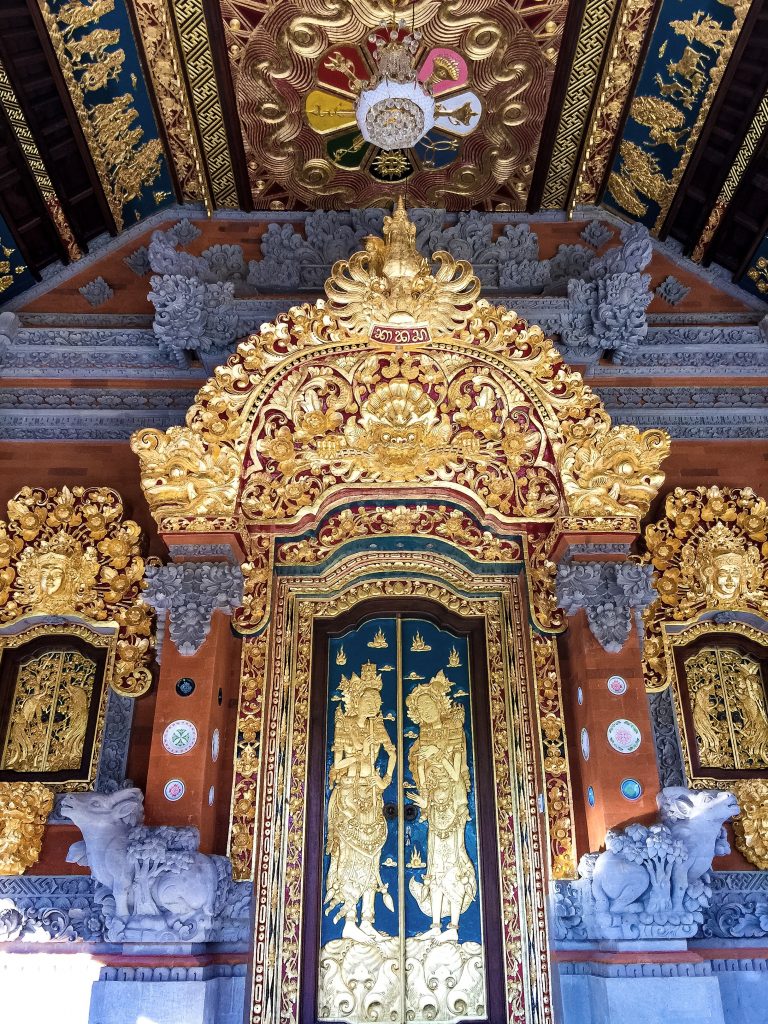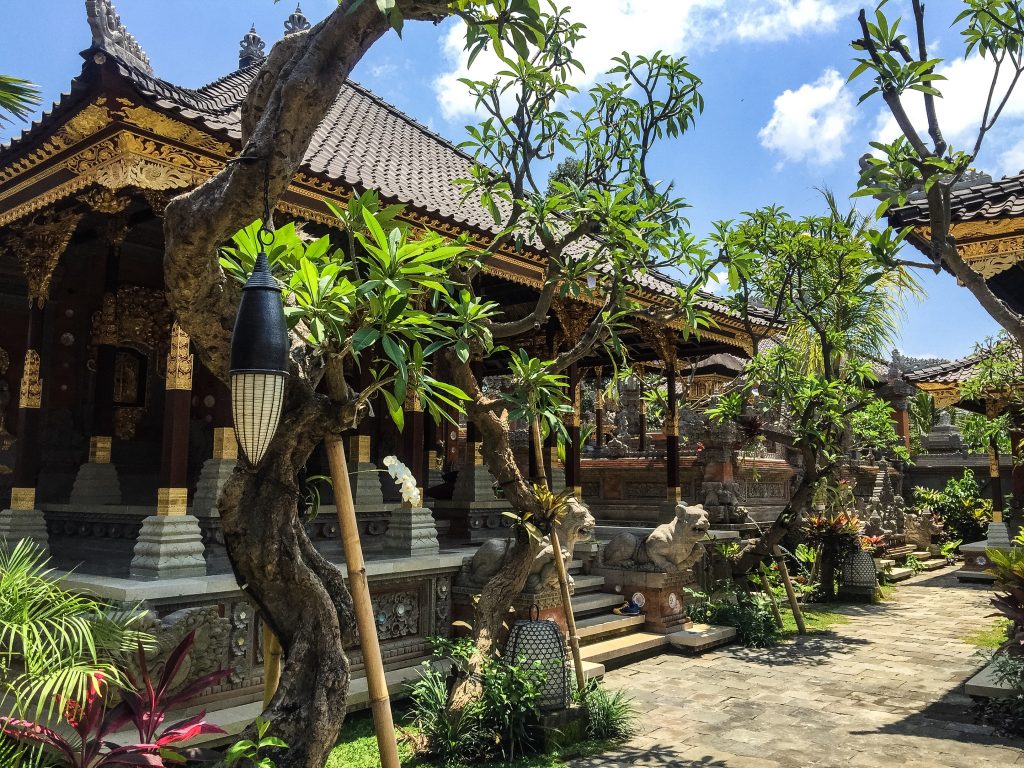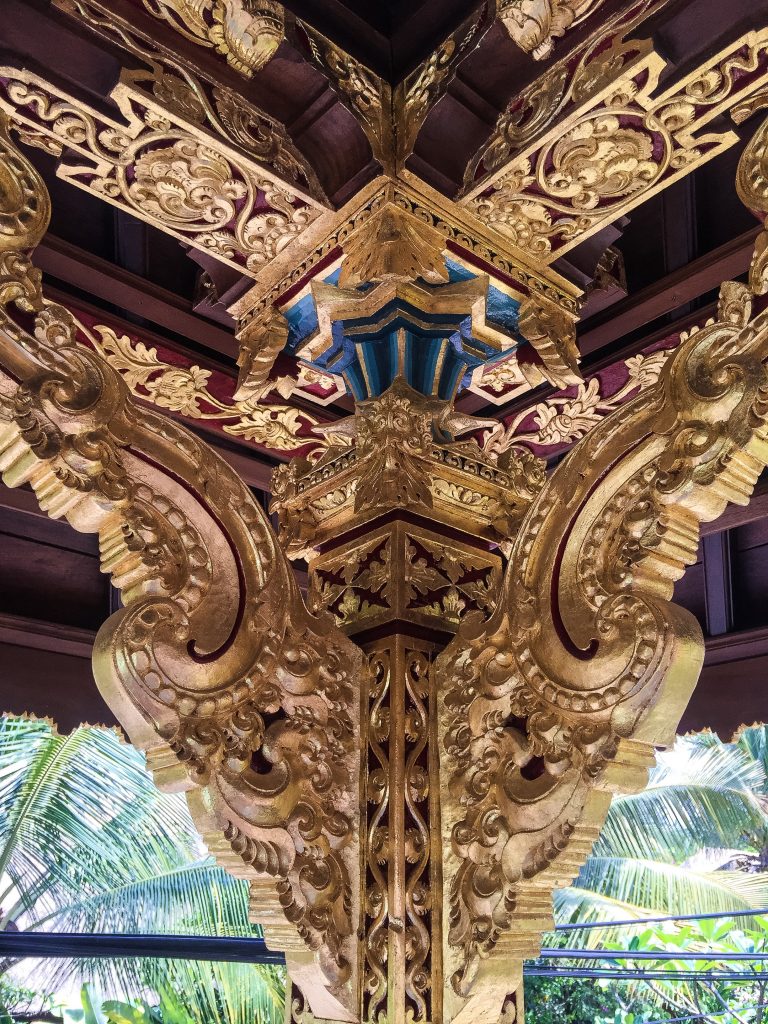 For our final night, we were upgraded to a 2-story, private pool villa. This villa, also equipped with new facilities and 2 large bedrooms, came with an outdoor, private bathtub and two outdoor showers. We felt like big shots in our villa, however the decor and look of our previous accommodation felt more unique and genuine to the Balinese culture.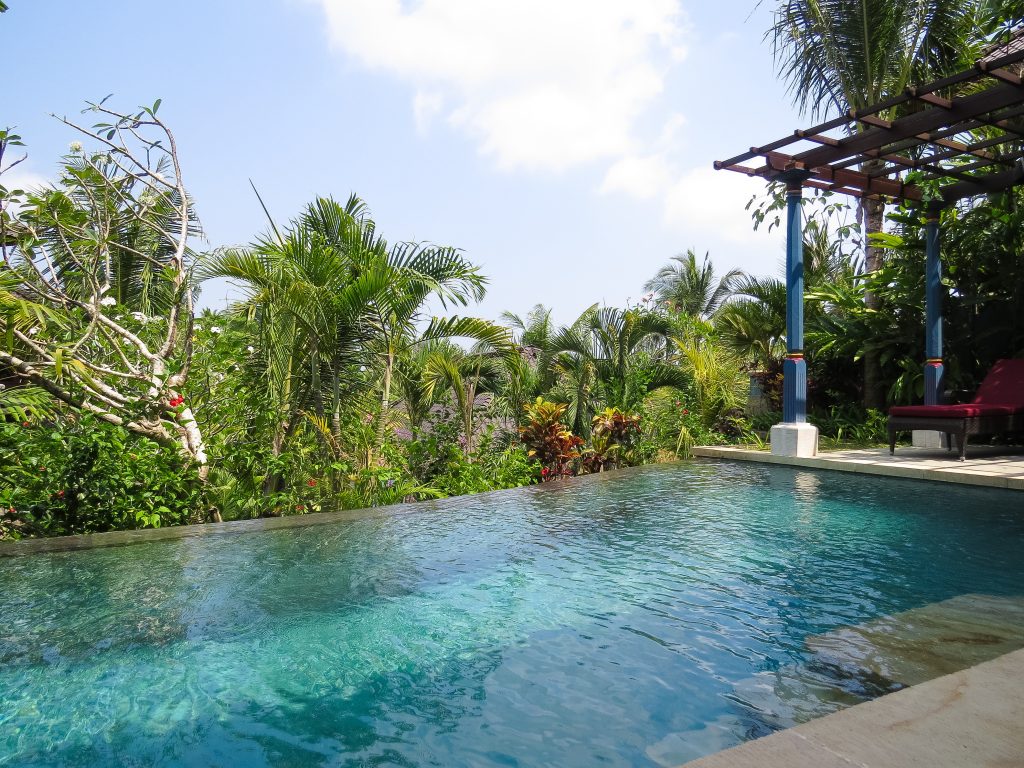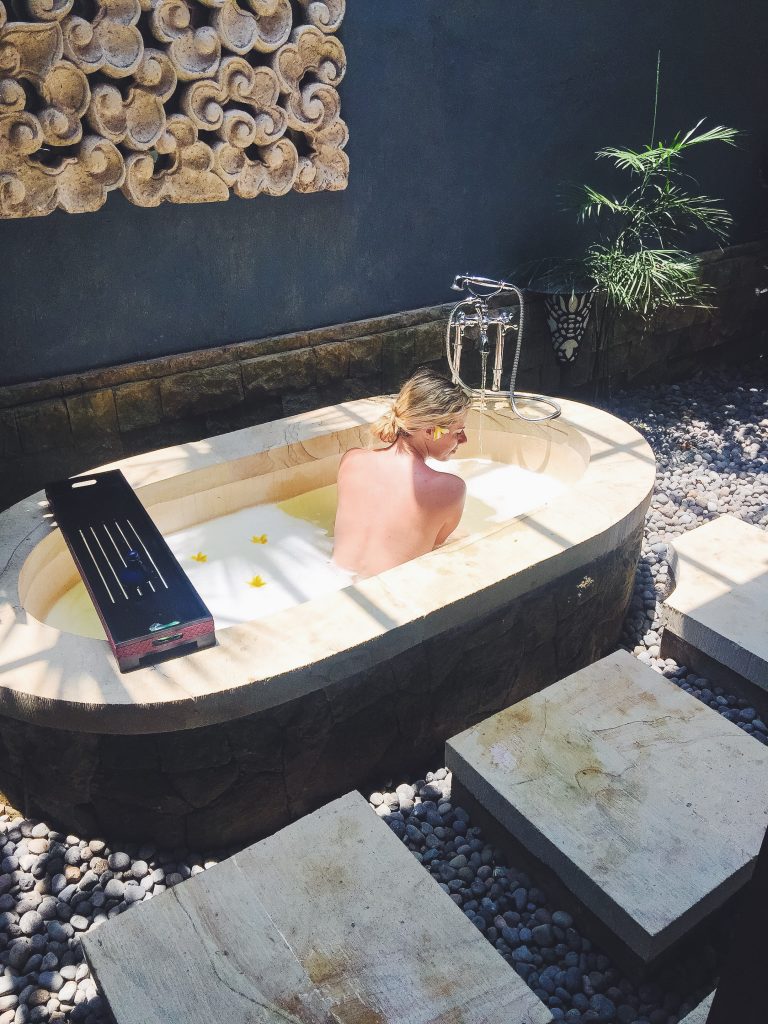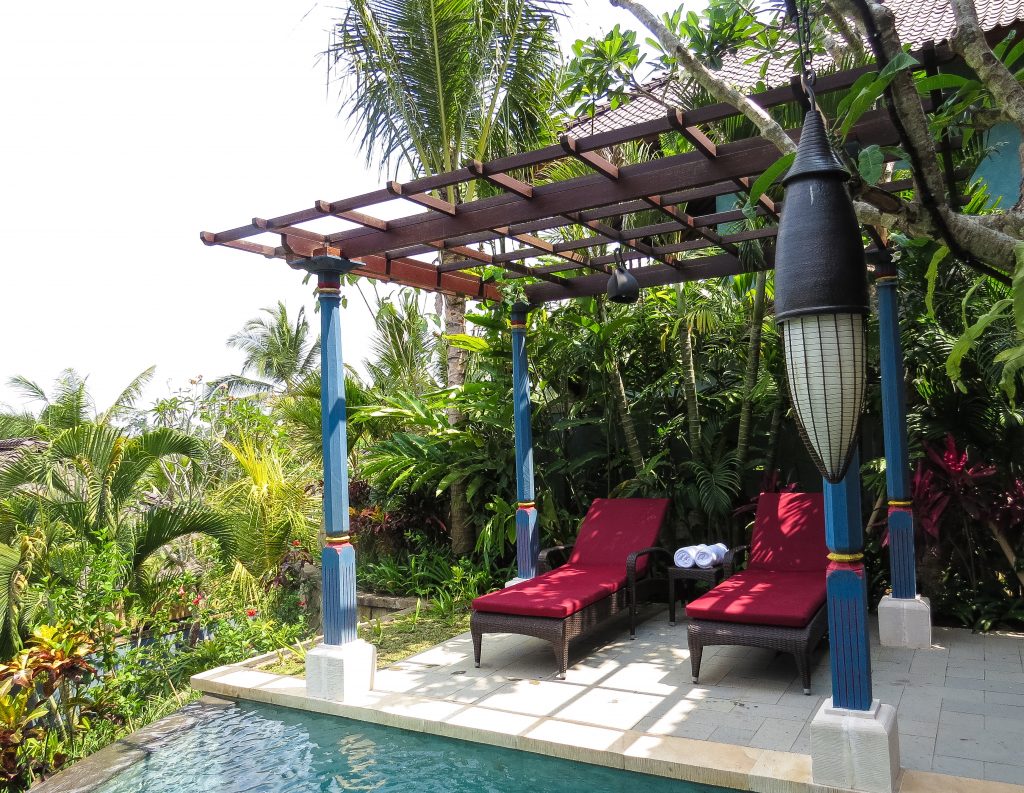 Amenities
If you want to be treated like Balinese Royalty, you have come to the right place. We learned that one of the four royal families of Indonesia reside here for several weeks at a time! To make your stay as regal as possible, Dwaraka provides each of their guests with the following, top-quality amenities:
Free, 3-course breakfast

Turndown service

Laundry (for additional charge)

Room service

Daily newspaper

Stocked fridge (all free, except wine)

Locally sourced toiletries and Robe/Slippers

A/C and Wifi

Cable TV

Concierge
Housekeeping Services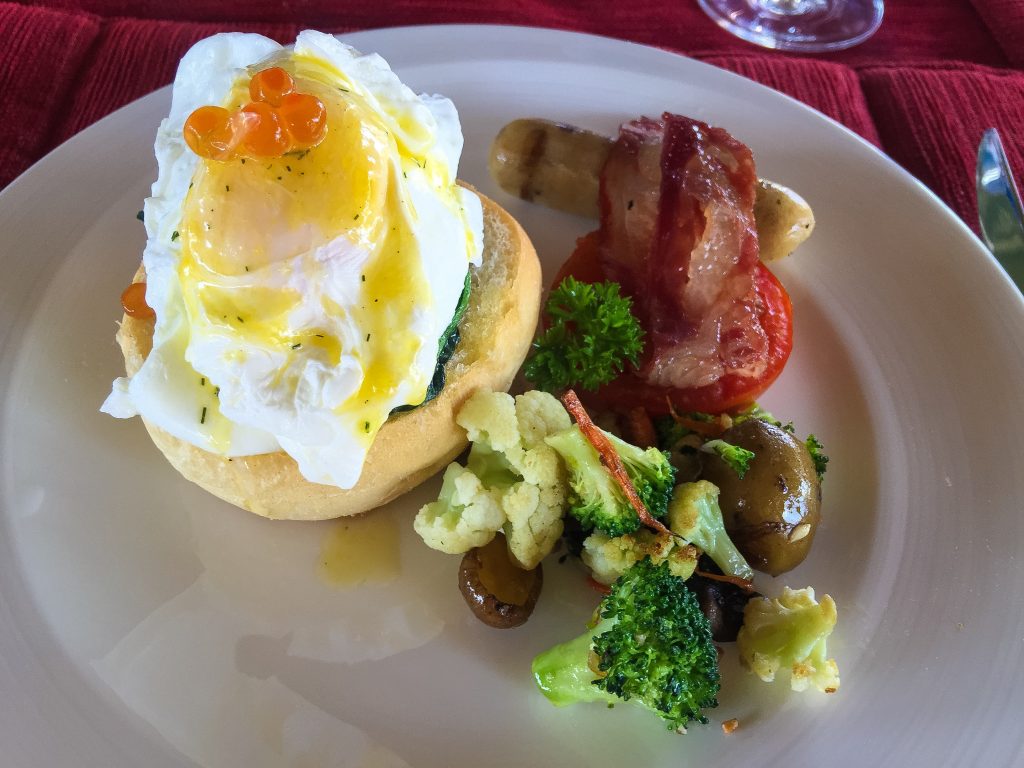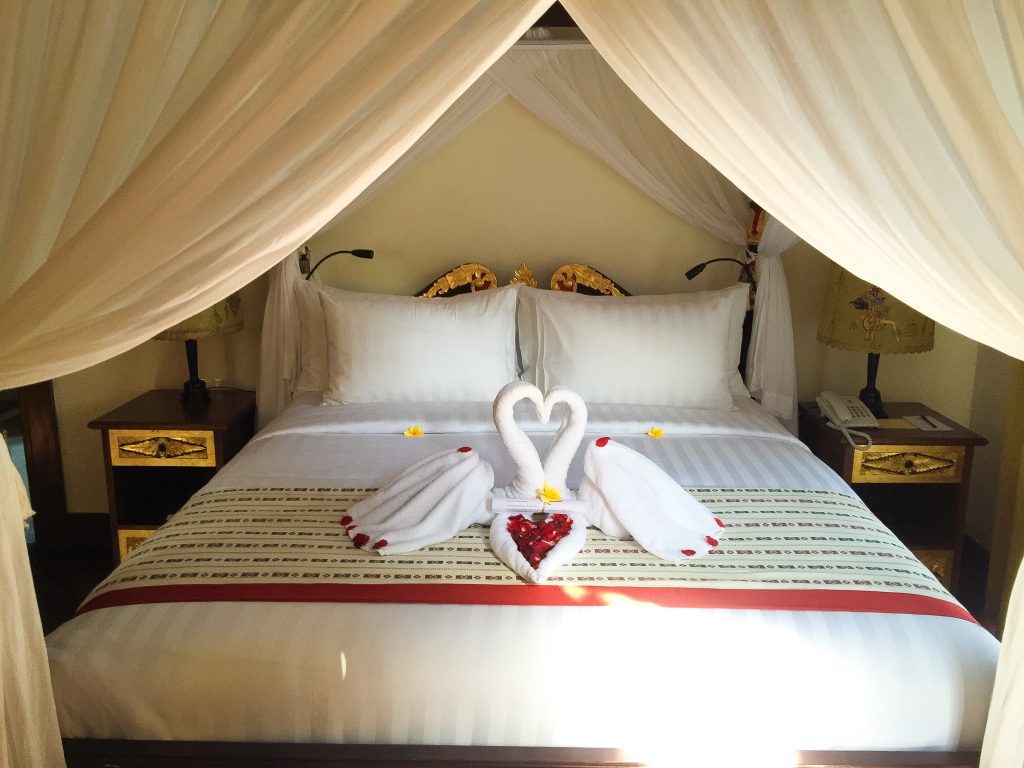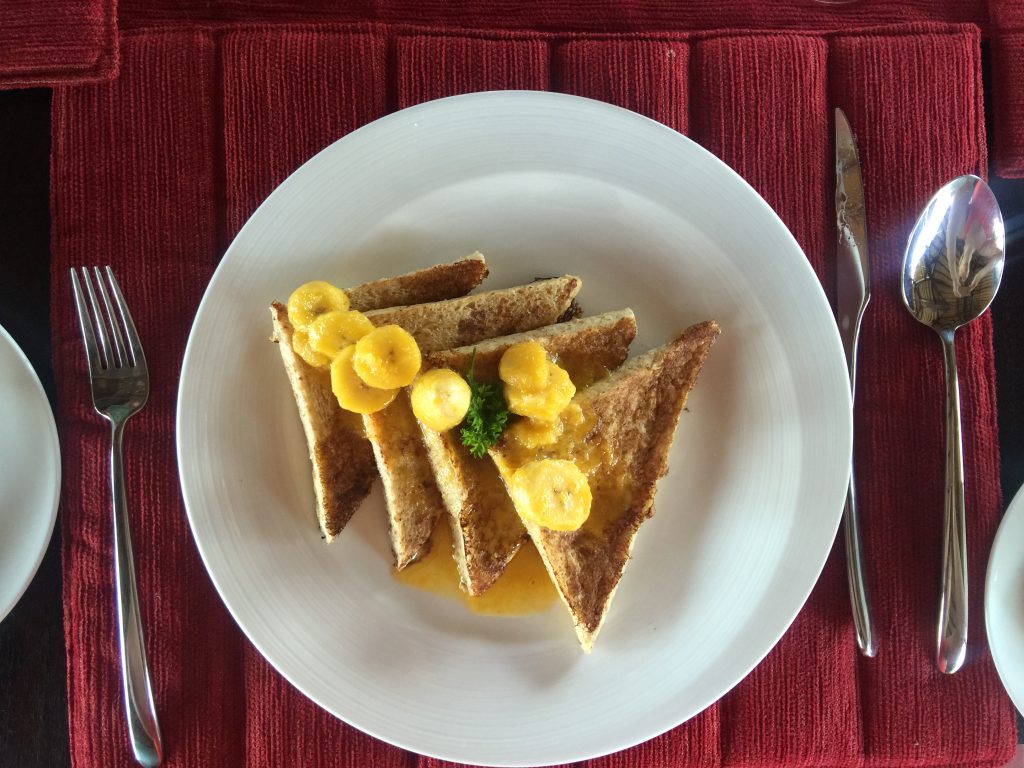 Things to Do
There is more than enough activities to enjoy at these lavish villas. Whether you want to kick back on your honeymoon or learn more about the Balinese culture, Dwaraka provides you with everything!
Balinese Cooking Classes

Yoga Classes

Tour of Ubud rice paddies

Tea time

Bicycle rental

Free shuttle to Ubud center of town (guests are given a cell phone to call when you are ready to be picked up.

Seriously

.)

Onsite Spa

Public Pool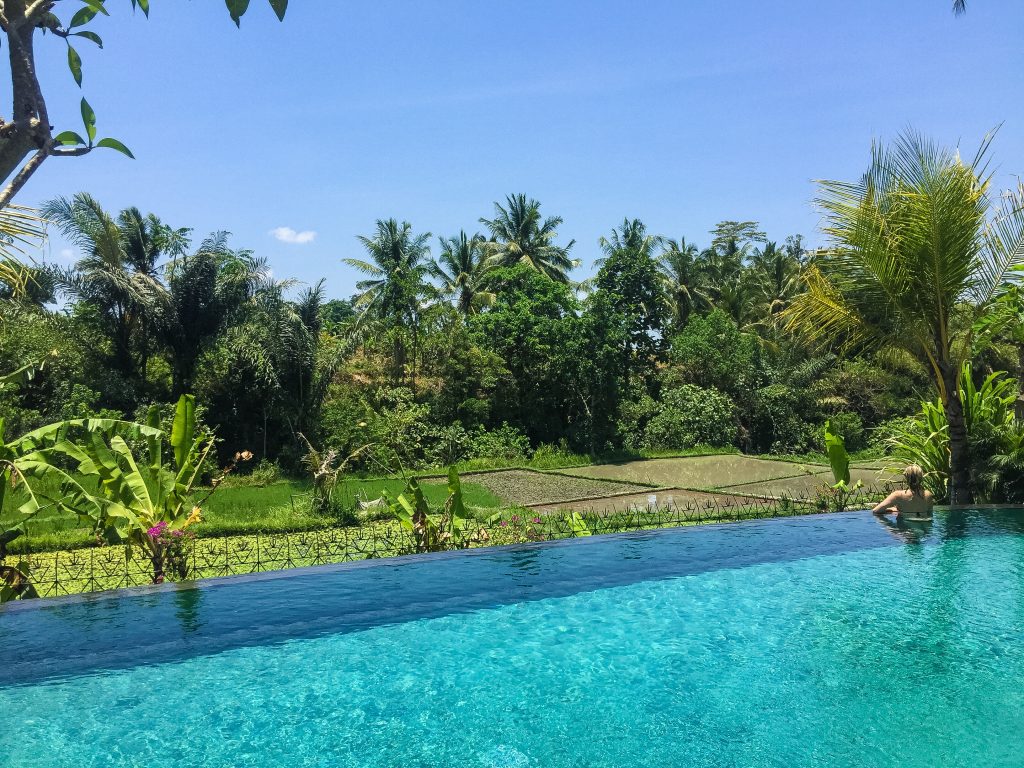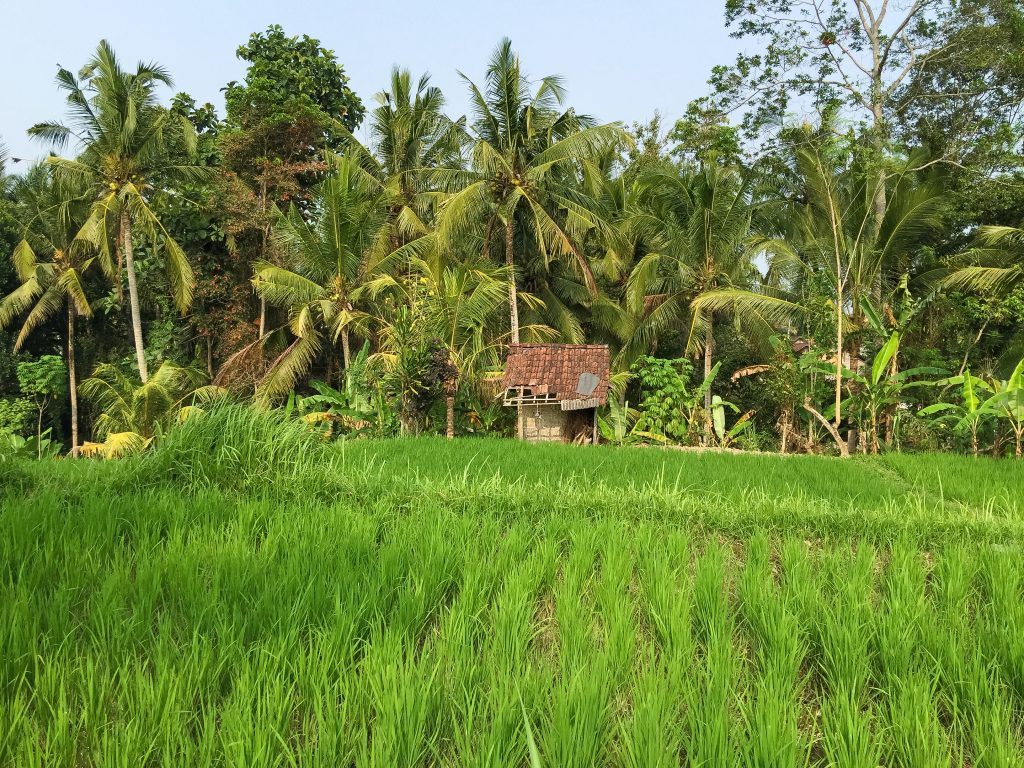 After traveling for 1 month, we were quite tired and ready to enjoy our honeymoon (which meant a lot of "TV nights" in bed"). However, we did manage to take a rice paddy tour and use the shuttle almost every day.
Staff
Personally, I think the best part of this experience was the staff. After our week-long stay in this spiritual haven, I can say that this place has some of the nicest people in the entire world!
From the moment we stepped onto the Villa property to our send off and every, beautiful detail in between, the staff at Dwaraka thought of everything. Spending so much time on the hotel property made us feel like Ubud was our second home and we got to know the staff on a personal level!
These beautiful and hardworking individuals are fathers, mothers, students and spiritual members of their community. And thanks to the services provided by Dwaraka, we were able to learn more about the Balinese culture and get to know these compassionate and friendly people.
Enjoy this unbiased and completely unique opinion as this review was not endorsed or paid for by Dwaraka Royal Villas.