In the land of fairy floss, cronuts and the almighty freak shake, it's safe to say that Sydney, Australia is foodie heaven, especially for those with a sweet tooth. While some traveler's trip to Australia would not be complete without visiting the Sydney Opera House or Bondi Beach, those sugar freaks NEED to try the Sydney's best desserts!
Aqua S
If cotton candy confection is your vacation vocation, then a trip to Sydney would not be complete without a stop at the famous Aqua S. Known for their heavenly soft serve, you'll find your Instagram spammed with this cotton candy swirl wall and matching ice cream topped with tasty popcorn and slightly toasted marshmallows.
Foodcraft Espresso and Bakery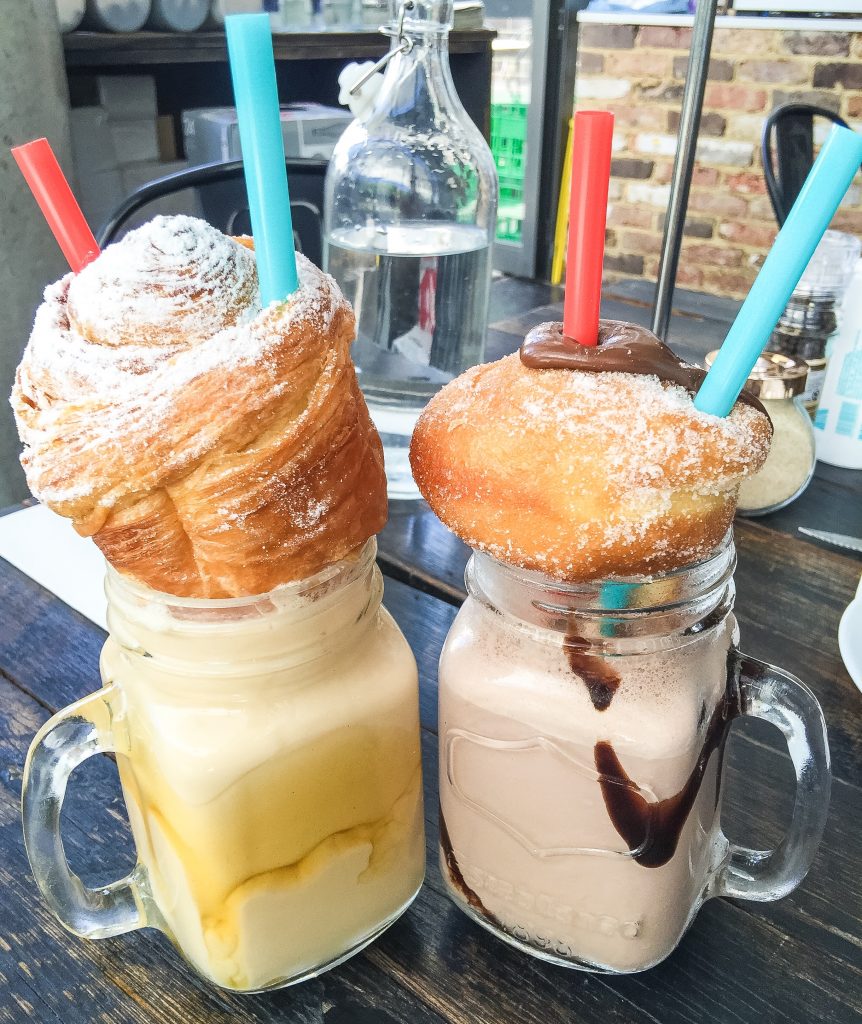 Don't let the strange location fool you, this place is a hidden treasure! Home of the legendary tella balls (if you're not hip to the lingo, they're nutella injected donut holes), Foodcraft Espresso & Bakery takes it to the next level with topping these bad boys on top of sweet milkshakes!
Ananas Bar & Brasserie
If you find yourself wandering about the Rocks of Sydney, you must stop at the well-known Ananas restaurant. This Parisian restaurant will not only fill you with some of Sydney's finest French cuisine, but will leave you in utter happiness with some of the best dessert you have ever tasted on planet earth. Not to mention a delectable wine pairing to go alongside your sweet dish.
Gelato Messina
Be prepared to wait at least 30 minutes for what I personally believe is the best gelato in Sydney! Gelato Messina may be a tiny place, but what they lack in size they make up for in flavor. And their flavors are pure insanity, great insanity, but insanity nonetheless. What even is 'Hasta La Basta' gelato? See for yourself and you won't regret it!
Doughnut Time
All about that boutique dessert life? Donuts are all the rage these days and Sydney has its own all-star in the ring. The doughtnuts at Doughnut Time are flakey and the service is bomb, but the glazes and icing are on another level. With flavors like Ferrero No Share, the Walter White and the Jack Sparrow, you'll be hooked (and back in line every, single morning).
Black Star Pastry
In a world of loud ice cream and over-the-top milkshakes, sometimes you just want to go back to the basics. Insert Black Star Pastry. These English tea-time inspired pastries with a modern spin take you back to your dessert roots and you're not even mad about it. Enjoy amazing cake flavors like strawberry watermelon or pistachio lemon zen.
Speedos
Once you pass the hip beach goers at Bondi, you'll find a beach cafe filled with delicious afternoon treats, and if you're not too late, some of Sydney's best dessert. Since you're not too far from those glistening, Sydney beach bodies, they give you some delicious, clean-eating options. But we came for the famous cronuts and thick shakes, obvi.
N2 Extreme Gelato
Odds are, as a sugar-head, you are privy to the Nitrogen ice cream craze. But what about toppings like rice krispies, crushed oreos, ferrero rocher candies and even an extra chocolate injection in your dessert? N2 Extreme Gelato not only has bold flavors but the crazy toppings to leave your eyes (and stomach) bulging.
The Vogue Cafe
How do you cronut? This quirky cafe has everything you could want and then some! From smoothies and shakes to the craziest cronuts you've ever seen, every sense will be overwhelmed the minute you step into the Vogue Cafe.
Cow and the Moon Gelato Bar
Most would stumble upon this Newtown gelato shop and think of it as any other. However this gelato joint was recently reviewed as having some of the best gelato in the world! With specials like a dulce de leche dome and topped with hazelnut sugar shards, you'll be able to see (or taste) what the buzz is about.
Passion Tree
Just when you were starting to get sick of all of the ice cream and donuts, Passion Tree came around to give you the hot chocolate of your dreams! This place is known for their sugary beverages and you'll be happy to know that there are some "healthier" options rather than the chocolate overdose pictured above.
Blu Orange
Looking to try a legendary freakshake? Topped with donuts, fruit, sprinkles and almost anything else you could think of, these bad boys taste just as good as your Pinterest feed makes it look. Considering these monsters a sky high, make sure to come hungry or have a buddy system in place for sharing the load.
Did I Miss Any Sweet, Foodie Spots? Where Else i Sydney's Best Desserts? Let Me Know!